Cité par @Aksioma
https://aksioma.org/unfixed.infrastructures <3
vàv de https://liens.vincent-bonnefille.fr/?nj0y3A
L'artiste organise des "Internet Tours" (en Bus) :
https://invidious.fdn.fr/watch?v=TB6cJSf1V5w
---
" Travel to my website, in the same way as a data packet 2016 "
( On arrive sur une page web qui représente un Terminal ( cli_bash )
La commande rentrée execute une traceroute entre l'ordinateur de @Mario_Santamaría et son site... avec un décompte de téléchargement en plusieures parties.
On peut ainsi télécharger son site compressé (.zip) avec un lot d'images sur la thématique des réseaux, de la transmission de pakets, leur suivi... beaucoup d'images. La première fait référence à @Tiqqun .
Il est surtout question du chemin et temps parcouru que le téléchargment rallllllllllonge.
Aperçu en image 9 septembre 2021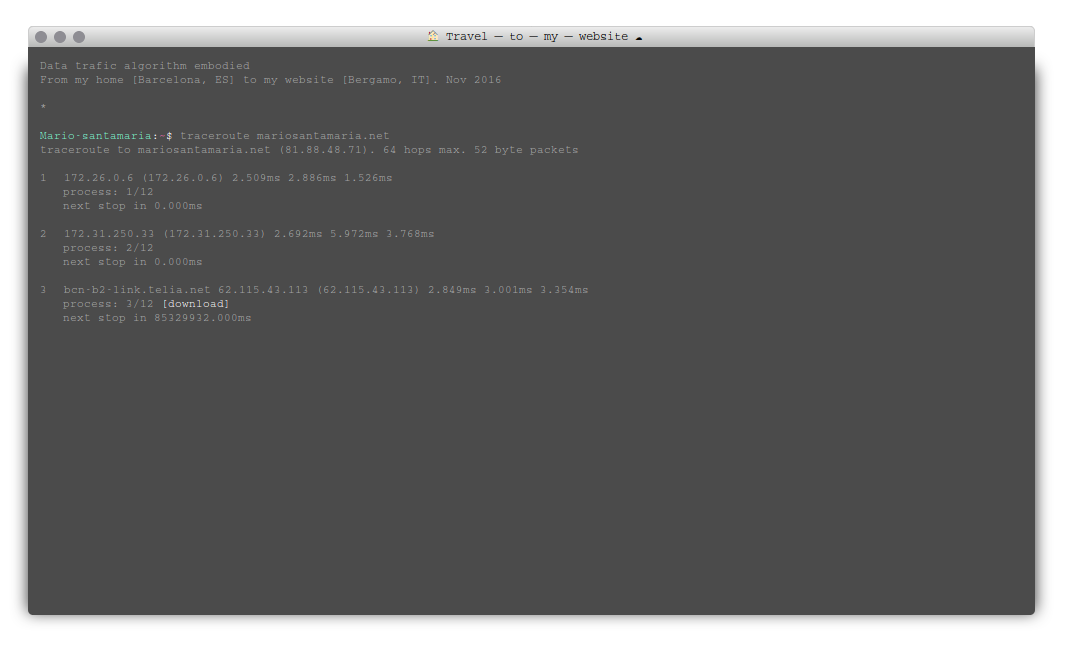 Data trafic algorithm embodied
From my home [Barcelona, ES] to my website [Bergamo, IT]. Nov 2016
Mario-santamaria:~$ traceroute mariosantamaria.net
traceroute to mariosantamaria.net (81.88.48.71).
64 hops max. 52 byte packets
via ( aller plus loin ? )
https://we-make-money-not-art.com/taking-data-packets-for-a-ride-an-interview-with-mario-santamaria/ <3 dn_tor_onion corpus 2019 @WeMakeArtNotMoney
Replier
Replier tout
Déplier
Déplier tout
Êtes-vous sûr de vouloir supprimer ce lien ?
Le gestionnaire de marque-pages personnel, minimaliste, et sans base de données par la communauté Shaarli