. Host : https://constantvzw.org
se présente comme un "International Trans★Feminist Digital Depletion Strike"
bibliotecha
Workshop 2019
https://pivilion.net/2019-workshop/
https://pivilion.net/tag/rpi/ 2020
via : https://schloss-post.com/art-dark-net/ ( @Schloss_Post interview_conférence )
On y voit un environnement_desktop de recherche_création en atelier_workshop / cours ...
Une exposition des terminaux ( cli_bash ) : une résidence
ça code : @Dina_Karadžić et @Vedran_Gligo
Pivilion is a decentralizing open source darknet web server project and gallery management software for the creation of autonomous & uncensored digital media art online galleries. It runs on low cost Raspberry Pi hardware and is built on top of Raspbian GNU/Linux with a server and Tor networking built in, utilizing the Tor network to host exhibitions out of the box.
Each Pivilion device receives a Tor onion domain automatically the first time it's activated. The system provides the user with a CMS for publishing multimedia or websites within a gallery. It's designed so that the author-curator can use any network (even public networks behind firewalls) to host an online exhibition.
via : https://schloss-post.com/the-first-schlosspost-web-residents/
Install Readme Git
https://gitlab.com/hacklab01/pivilion/-/wikis/pivilion-manual-setup
Ressemble à une adhoc_piratebox
DEAD .onion : http://pivilionumi6b3kg.onion/pavilion
org https://hacklab01.org <3 glitch aesthetique_goût hack
+) https://thewrong.org
"Can you hear me?"
Hello NSA , hello GCHQ. Berlin speaking here.
¥ Antennas on the Academy of Arts in Berlin
Messages can be sent to the intelligence agencies on the frequencies that are intercepted by the NSA and GCHQ. An independent mesh network in Berlin's Government District recaptured the virtual communication space. A collective conversation space in which all have equal rights has been taking the space of secret wiretapping.
http://www.statemachines.eu/projects/708/
---
http://www.statemachines.eu/projects/708/ =
AN ARCHEOLOGY OF SILENCE IN THE DIGITAL AGE
"I have not tried to write the history of that language (A/N the language of psychiatry) but, rather, the archeology of that silence."
M. Foucault, Madness and Civilization, 1961
Artists @Christoph_Wachter and @Mathias_Jud have been paying special attention to the different forms of silence that prevail on the Internet. With their work, they aim to undermine power structures while also developing tools and systems of communication for those in need. They uncover network mechanisms, expose cases of censorship and surveillance, and embrace infrastructural literacy as a response to the dominance of today's network ( 2017 )
Via https://www.wachter-jud.net/Can-you-hear-me.html?r9t_locale=en
---
Au programme de @State_Machines ( thématique_revue ) ...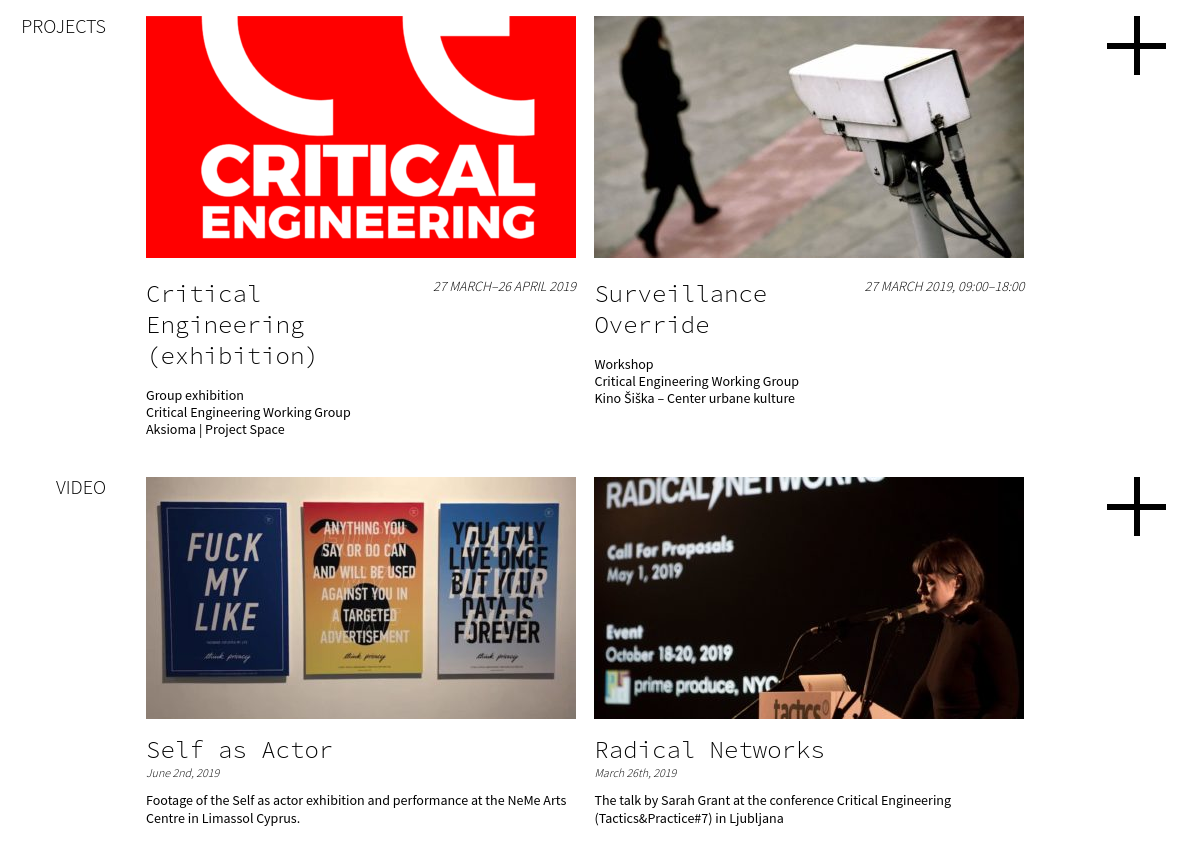 0n retrouve : @The_Critical_Engineering_Working_Group et @Aksioma <3
Replier
Replier tout
Déplier
Déplier tout
Êtes-vous sûr de vouloir supprimer ce lien ?
Le gestionnaire de marque-pages personnel, minimaliste, et sans base de données par la communauté Shaarli