Des Services web...
encore des CHATONS
" Aurore est une association à but non lucratif gérée par des bénévoles étudiants de l'université Paris-Saclay. Nous nous efforçons de fournir une couverture Internet filaire et Wi-Fi très haut débit aux étudiants pour 50€ par an, ainsi que l'accès à de nombreux services Web. "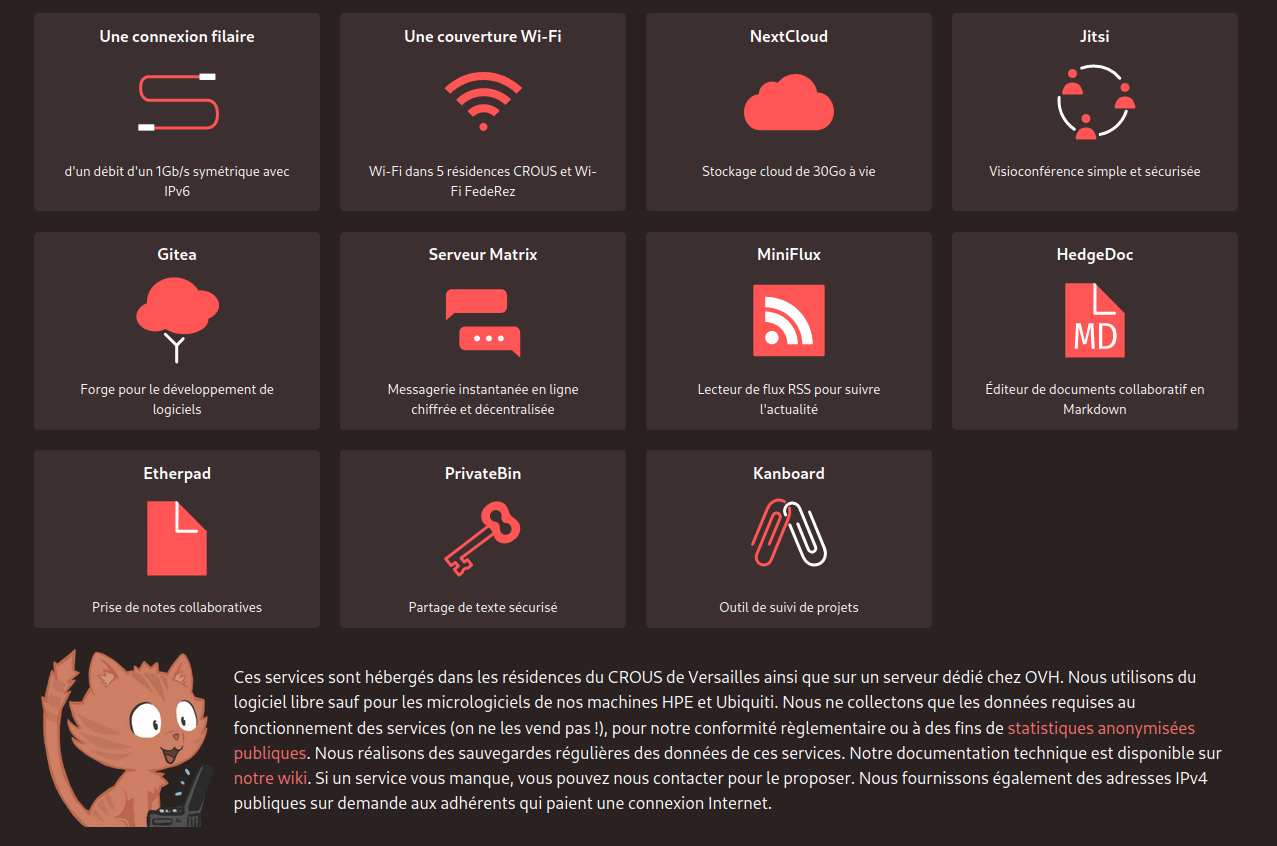 ---
Proposent une ma fois bonne documentation tuto
(par là que je les ai découvert.es)
" Documentation technique
Bienvenue sur la documentation technique d'Aurore.
Ce wiki est fait pour documenter tout ce qui fait partie de l'infrastructure technique (hardware et software) à Aurore. Il sert à s'autoformer et à avoir accès à toutes les informations concernant notre infrastructure rapidement et clairement "

Au programme :

Sites géographiques (Accès restreint) Sites où Aurore est implantée
Serveurs Liste des serveurs d'Aurore et de leurs fonctions
Services Liste des services d'Aurore
Plan IP Les adresses IP d'Aurore et leurs répartitions
VM Toutes les VM d'Aurore
Monitoring Installation et utilisation Prometheus / Grafana
Les VLAN Virtual Local Area Network
VPN OVH Documentation du tunnel entre OVH et Saclay
Les onduleurs Liste et documentation des onduleurs
Bornes dans les chambres Bornes installées dans les chambres d'adhérents en résidence
Reserve Proxy Nginx en tant que RP et un peu plus
Ansible Système de configuration et de gestion de parc
Liaisons optiques Les liaisons optiques utilisées par Aurore
---
Fait partie du réseau inter-universitaire :
https://federez.net
et aussi
https://viarezo.fr
https://www.rezel.net
Cité par @Aksioma
https://aksioma.org/unfixed.infrastructures <3
vàv de https://liens.vincent-bonnefille.fr/?nj0y3A
L'artiste organise des "Internet Tours" (en Bus) :
https://invidious.fdn.fr/watch?v=TB6cJSf1V5w
---
" Travel to my website, in the same way as a data packet 2016 "
( On arrive sur une page web qui représente un Terminal ( cli_bash )
La commande rentrée execute une traceroute entre l'ordinateur de @Mario_Santamaría et son site... avec un décompte de téléchargement en plusieures parties.
On peut ainsi télécharger son site compressé (.zip) avec un lot d'images sur la thématique des réseaux, de la transmission de pakets, leur suivi... beaucoup d'images. La première fait référence à @Tiqqun .
Il est surtout question du chemin et temps parcouru que le téléchargment rallllllllllonge.
Aperçu en image 9 septembre 2021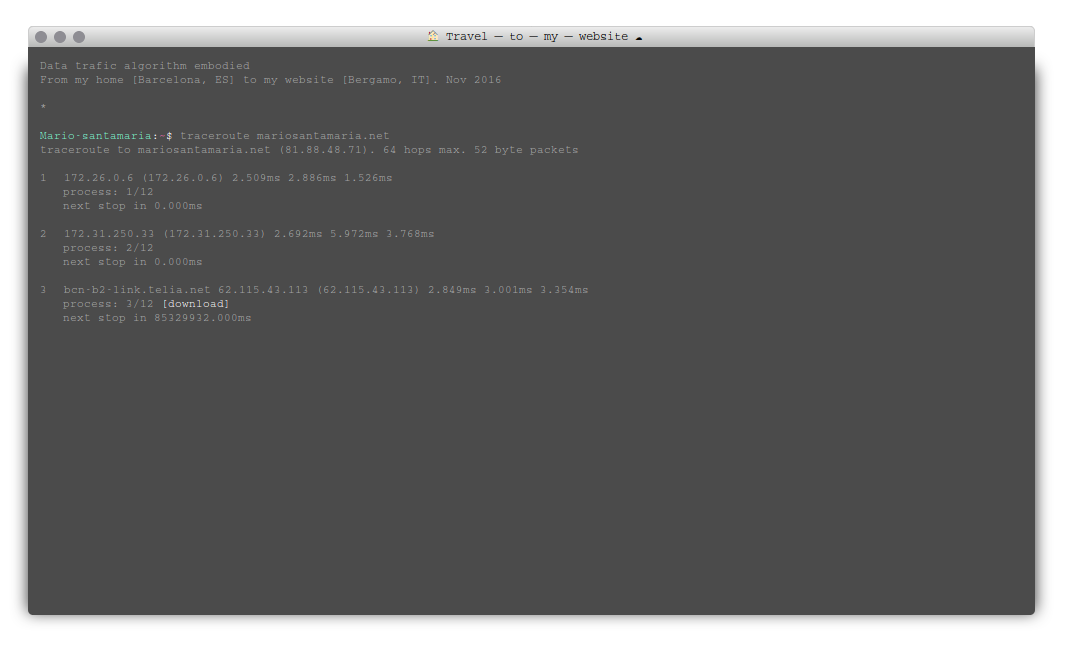 Data trafic algorithm embodied
From my home [Barcelona, ES] to my website [Bergamo, IT]. Nov 2016
Mario-santamaria:~$ traceroute mariosantamaria.net
traceroute to mariosantamaria.net (81.88.48.71).
64 hops max. 52 byte packets
via ( aller plus loin ? )
https://we-make-money-not-art.com/taking-data-packets-for-a-ride-an-interview-with-mario-santamaria/ <3 dn_tor_onion corpus 2019 @WeMakeArtNotMoney
par Computerphile, 29 janv. 2021
"Traceroute is a standard networking tool, but can it be used to recreate all those film scenes where a 'trace' is put on a signal? Dr Richard G Clegg, Queen Mary University of London shows us the neat hack that makes it work and has a go at that supervillain map!"
Network Toplogies
Link Density
...
Paul Baran's three topologies of networks: centralized, decentralized, distributed.
traceroute
Simplified model of the internet. It's made of routers. Home devices are connected to your router, which is connected to your internet network provider. Business and academic networks are similarly made up of individual computers connected to local routers, which are, in turn, connected to those institutions' network providers. Mobile devices are connected to mobile network providers, and those providers in turn connect to other network providers to make sure your texts get to your friends phones and computers.
Replier
Replier tout
Déplier
Déplier tout
Êtes-vous sûr de vouloir supprimer ce lien ?
Le gestionnaire de marque-pages personnel, minimaliste, et sans base de données par la communauté Shaarli