" A Live Mail Art Piece where a parcel containing a camera is sent to Julian Assange at the Ecuadorian through the Royal Mail. " 2013
' «Delivery for Mr. Assange» is a 32-hour live mail art piece performed on 16 and 17 January 2013. On 16 January 2013 !Mediengruppe Bitnik posted a parcel addressed to Julian Assange at the Ecuadorian embassy in London. The parcel contained a camera which documented its journey through the Royal Mail postal system through a hole in the parcel. The images captured by the camera were transferred to this website and the Bitnk Twitter account in realtime. So, as the parcel was slowly making its way towards the Ecuadorian embassy in London, anyone online could follow the parcel's status in realtime. '
---
Vidéos, interview_conférence ...
exposition Exposing_the_invisible thématique_revue
https://exposingtheinvisible.org/en/films/losing-control-delivery-for-mr/
exposition @The_Black_Chamber ::
https://vimeo.com/210417315
Opera Calling / Delivery for Mr. Assange / Random Darknet Shopper ...
https://vimeo.com/157831003 ( processus.créa.art <3 )
exposition @The_Influencers (exposé long, plusieurs pièces) :
https://vimeo.com/147480984 2015
---
Vidéo présentation @Aaron_Swartz <3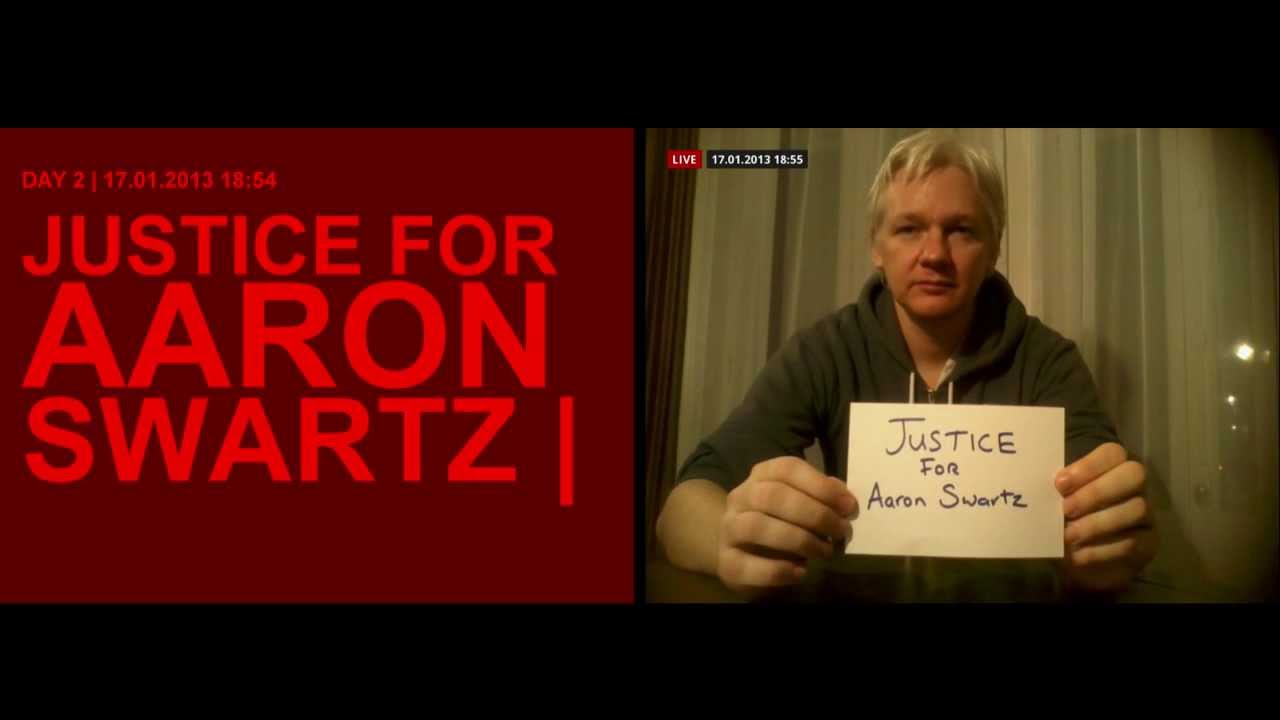 Push
Cet outil sert à notifier d'un incident, à faire de la veille sur une activité spécifique.
Ce n'est pas une messagerie mais plutôt de feedbacks programmables.
https://push.vincent-bonnefille.fr
---
Une alternative :)
https://ntfy.sh
https://ntfy.readthedocs.io/en/latest
( found via https://alternativeto.net/software/gotify/about/ ) alternativeto
Mais on est sur du push !
Le serveur qui gère les abonnements est maître, c'est lui qui envoie !
Gotify est pensé sur le même model.
une multiplication des protocoles/app/canaux qui pose problème, le projet https://unifiedpush.org tache de répondre à cette diversité ( unifiée grâce à Fédivers )
Concept, principe général ( Gotify )
Un serveur (écrit en Go) centralise des messages envoyés entre des clients (d'autres machines / écrans) qui connaissent son adresse (au serveur) (ici push.vin... mais ça peut être une adresse IP).
Ces clients interrogent courament ce serveur de micro messagerie pour s'actualiser, savoir s'il ya de nouveaux messages...
Serveur et clients peuvent ainsi s'envoyer des messages courts, des "pushs" / notifications entre eux p2p !
Le serveur vérifie que les clients destinataires sont autorisés (par un /token.jetton/ ou /login.connexion/ renseigné au préalable).
La base de donnés se fait du côté du serveur.
---
Va me servir...
de façon domestique (avec mes proches) de messagerie multi-canaux
. chat_conversation
Libre de source
Le tout en open-source, multi-plateforme...
https://www.linux-magazine.com/Issues/2020/230/Gotify
https://www.scrample.xyz/gotify-service-de-notifications/
https://gotify.net/docs/install
Autre avantages
. On peut ajouter autant d'utilisateur.ice qu'on veut
. et de "canaux" / "chaine" / "salon" thématiques...
. Un plus+ par rapport à des services comme /Pushbullet/ alternativto
. . API est hyper basique
. . Le fichier config permet facilement d'intégrer des certificats SSL (HTTPS)
Compatibilité
On trouve des clients (applications d'envoi et consultation)
sur Android / iOS / Firefox / Chrome ...
: . . firefox oui, avec un seul canal-serveur
: . . Android on peut envoyer depuis l'UI
: . . iOS Non
Limites
Les "applications-interfaces" d'envoi sont fondamentalement.
Chacun de ces "terminaux" se voit attribué un ID client
Ce qui est Bizarre.pénible quand même c'est de ne pas pouvoir envoyer depuis l'UI (web.User.Interface) du serveur... qui gêre l'admin.users , canaux.tokens , affiche les messages , voit tout mais reste muet.
Lui donner la parole ça rendrait compatible sur tout écran...
(à tester, ajout d'un broadcast). . .
Cela oblige à installer des clients.UI.apps pour envoyer des push.messages...
---
Installation
Léger, (très) facile à installer / lancer / configurer
J'ai essayé avec Docker
(mais c'est pas trop mon truc)
(ca cloisonne par environnements)
J'ai préféré un /reverse-proxy/ avec Nginx !
La suite
https://github.com/atareao/gotify-indicator ( cool intégration linux )
https://github.com/gotify/contrib - index
https://github.com/eternal-flame-AD/gotify-broadcast - todo_done (:
https://github.com/schwma/gotify-push - PIP
https://awesomeopensource.com/project/gotify/cli - cli_bash
https://teddit.ggc-project.de/r/selfhosted/comments/pv3sa5/how_do_you_use_gotify/
https://www.scrample.xyz/gotify-service-de-notifications/
Suite à une exposition de mon travail vidéo je me suis confronté à certaines limites d'accès à mon Raspberrypi.
En déplacement mon micro-ordinateur se retrouve sans écran.
Je n'ai pas d'yeux pour m'y connecter, d'interface.
Je suis habitué à passer par l'interface de ligne de commandes cli_bash en ssh par le réseau local (LAN)
(ou même à distance ( par Internet ) si je connais l'adresse IP de connexion de ma raspberrypi ou son URL/nom de domaine qui s'y rattache)
Mais là, pas de réseau intermédiaire entre mon micro-ordinateur sans tête ("headless") et un terminal distant par lequel y accéder et afficher le contenu / commander.
Coupée du monde mon raspberrypi tourne seul et je n'ai que peu de signes de vie (une LED et température).
Pour y remédié plusieurs solutions.
J'ai fais avec ce que j'avais sous la main : une carte-micro permettant de créer un réseau Wifi (hotspot) auquel je connecte l'ordinateur sans tête et le terminal.
Une Onion Omega 1.0
Je crée ainsi un réseau wifi par lequel je me connecte en SSH à mon micro-ordi.
Onion Omega permet aussi de partager une connexion Wifi existante (avec ou sans mot de passe).
Et l'une des autres solutions c'est de se connecter directement à la Raspberry pi en USB via son port Serial.... d'où cette bulle_lien !
D'autres solutions plus couteuses, moins légères :
https://www.youtube.com/watch?v=nui8kXvUAys
( HDMI Converter to USB )
par Computerphile, 29 janv. 2021
"Traceroute is a standard networking tool, but can it be used to recreate all those film scenes where a 'trace' is put on a signal? Dr Richard G Clegg, Queen Mary University of London shows us the neat hack that makes it work and has a go at that supervillain map!"
"The IP.Spy.Sequencer is the first application made for the Antidatamining project. It visualizes the activity of a particular network, whose center has been defined as the RYBN main website. This application was made using the data-monitoring and digital surveillance tools - Traceroute, Whois and Lookup
The application recovers the website's homepage login related informations : IP addresses, previous site or entering links, login time and date, Operating System, browser, downloaded bytes, access paths... All these informations are recorded into a database. In a second time, the data are crossed with a GeoIP database, allowing to determine the visitors geographical location."
Network Toplogies
Link Density
...
Paul Baran's three topologies of networks: centralized, decentralized, distributed.
traceroute
Simplified model of the internet. It's made of routers. Home devices are connected to your router, which is connected to your internet network provider. Business and academic networks are similarly made up of individual computers connected to local routers, which are, in turn, connected to those institutions' network providers. Mobile devices are connected to mobile network providers, and those providers in turn connect to other network providers to make sure your texts get to your friends phones and computers.
What is BGP?
BGP is the protocol that makes the Internet work. ///Border Gateway Protocol (BGP) submits data across the internet and is responsible for selecting the best route from all the available paths that data can travel, which usually means hopping between autonomous systems.
BGP is not perfect
The Protocol on which the Internet is built is outdated
BGP is now 20+ years old.
---
Derière ce projet, Syntropynet
"Syntropy is an open project providing next-generation connectivity technology for the Internet."
En français cours internet :
https://youtu.be/uzRgR39uMz0?t=193
NOIA NETWORK
. un BGP par blockchaine !
. Répondre à l'hyper communication actuelle...
Token vendu sur Coinbase...
. Space-sharing, partage de HDD (P2P, localiste, data-center partout)
PING MAP (#2011 ...)
A DYNAMIC MAPPING OF THE GLOBAL NETWORK BASED ON ECHO TIME
PING MAP is a world map that uses network access time as its unit of measure. Whereas internet giants are gradually dominating states' powers, information superhighways and default web portals are in the process of conditioning a new hierarchy in information flows and mapping out a landscape that is specific to the Internet. PING MAP invites us to reconsider in a poetic and technical manner the very notion of world geography in the era of the Internet, //high_frequency_trading, submarine cables and other forms of automated routing.
Set against this //digital backdrop, the main measure of distance simply becomes the transmission time between servers and terminals. The new territorial and spatial structure formed by these digital transits reconfigures the positions of the countries of the world by projecting the better connected territories to the centre of an ever denser map and by forcing the slowest, most fragile and instable territories to the edges of the map, thereby forming a connectivity ghetto of sorts.
Replier
Replier tout
Déplier
Déplier tout
Êtes-vous sûr de vouloir supprimer ce lien ?
Le gestionnaire de marque-pages personnel, minimaliste, et sans base de données par la communauté Shaarli