Résidence de @Kristina_Solomoukha & @Paolo_Codeluppi ( @aR )
Sur une invitation de Catherine Baÿ et avec la joyeuse participation de Laure Mathieu, Fabrice Bourlez, Bernhard Rüdiger, Famille Rester.Étranger, Alice Lejeune, Vincent Bonnefille et d'autres invités surprise.
Vernissage dimanche 26 septembre à partir de 18h
19 h 30 invitation culinaire – Manger le pattern, Bernhard Rüdiger
... retrouvez leur beau texte en pdf sur l'apparition des formes et des sens...
... et oui, j'y participerai avec une intervention gesticulée :)
... sans doute accompagnée d'une chat_chouquette
... à The Window où je suis webmaster et ancien résident
Cité par @Aksioma
https://aksioma.org/unfixed.infrastructures <3
vàv de
https://liens.vincent-bonnefille.fr/?nj0y3A
---
" Travel to my website, in the same way as a data packet 2016 "
( On arrive sur une page web qui représente un Terminal ( cli_bash )
La commande rentrée execute une traceroute entre l'ordinateur de @Mario_Santamaría et son site... avec un décompte de téléchargement en plusieures parties.
On peut ainsi télécharger son site compressé (.zip) avec un lot d'images sur la thématique des réseaux, de la transmission de pakets, leur suivi... beaucoup d'images. La première fait référence à @Tiqqun .
Il est surtout question du chemin et temps parcouru que le téléchargment rallllllllllonge.
Aperçu en image 9 septembre 2021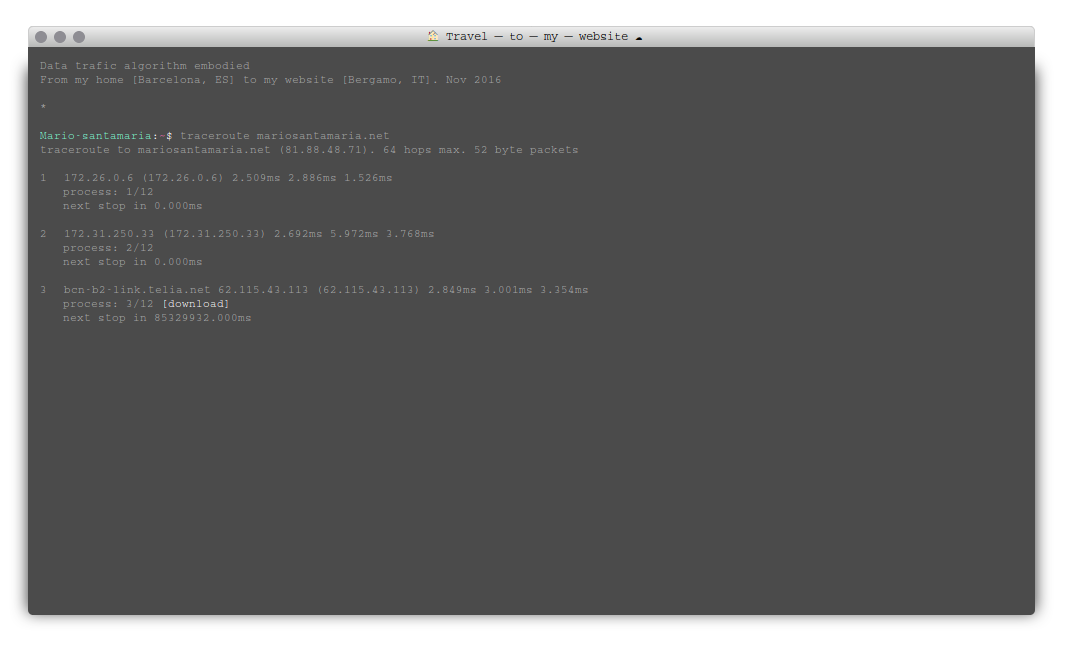 Data trafic algorithm embodied
From my home [Barcelona, ES] to my website [Bergamo, IT]. Nov 2016
Mario-santamaria:~$ traceroute mariosantamaria.net
traceroute to mariosantamaria.net (81.88.48.71).
64 hops max. 52 byte packets
via ( aller plus loin ? )
https://we-make-money-not-art.com/taking-data-packets-for-a-ride-an-interview-with-mario-santamaria/ <3 dn_tor_onion corpus 2019
Penser les crypto-art NFT-art au regard de l'emprunte écologique...
"12th March 2021
CryptoArt.wtf was designed to share the best available information about the energy use and environmental impact of the growing Proof-of-Work (PoW) based CryptoArt and NFT markets. Just as we can find information regarding the ecological costs of flying, iPhones, watching Netflix, or training Artificial Intelligence models, I believe similar information should be available for CryptoArt, so that we can understand the impact of our actions, and we can make informed decisions. Unfortunately, the information on this website has been used as a tool for abuse and harassment, so I am taking the site offline. "
... Article manuel cité :
/A guide to more sustainable CryptoArt/
https://github.com/memo/eco-nft
Ways to make it better
Still using Ethereum:
Using other blockchains:

NFT Platforms & Marketplaces
Eco-friendly
Not eco-friendly

Blockchains
Ready for NFTs and deployed main-nets:
WIP or recently released

Risks
"Within the Terms and Conditions' is a part of a new form of practice of mine that I describe as 'expanded documentary.' I'm both an artist and a researcher; I've been researching online harassment, digital violence, and human rights in technology since 2013, and I've been making art for even longer. I'm interested in the ephemera of people, current events and communities, and this includes digital content. Memes, screen grabs, and ripped YouTube videos may seem like unusual topics for photojournalism and contemporary art, partly because the Web is already such a flat and image-focused space. However, this work lends itself well to expanded documentary; it's a bit like taking a camera within the different corners of the Internet and documenting what is there. As an artist, I take the web seriously as a place where people live and events unfold because online life is real life, too. The phrase "it's just the Internet, it's not real life" minimises that digital harm but it is also a phrase I heard being repeated many times in my research, from online harassment videos to reactionist videos posted by white supremacists after the failed coup in the United States capital on 6 January, 2021."
note : parle aussi de TERFs and anti-trans rhetoric (terme ajouté à bulle)
contemporary art blog
( type tumblr )
accessible )
http://rybn.org/thegreatoffshore/index.php?ln=fr&r=2.ALGOFFSHORES
"La serie ALGOFFSHORE est une collection d'algorithmes documentant différentes stratégies d'optimisation fiscale. La série est conçue sur une base documentaire d'étude de différents modèles classiques, les éléments récurrents qui structurent les différentes stratégies, au delà de leurs singularités respectives. La série cherche à montrer le génie ignoré qui se dissimule derrière les montages d'évasion fiscale."
···
http://rybn.org/thegreatoffshore/index.php
"The Great Offshore (Le Grand Large) est une œuvre documentaire qui nous invite à une immersion dans les profondeurs de la finance de l'ombre. L'œuvre rassemble des documents, des récits, des images et des objets, glanés au cours de voyages dans différents paradis fiscaux: à la City de Londres, en Suisse, au Liechtenstein, dans les îles Anglo-Normandes, à Dublin, au Delaware, aux Bahamas, aux Îles Caïmans, à Chypre, à Malte, aux Pays-Bas, au Luxembourg."
···
Article interview : https://www.zerodeux.fr/interviews/rybn/
et un autre : https://www.digitalmcd.com/rybn/